Level Up Your Tech Setup This Prime Day with Mokin Docking Stations and USB Hubs!
As the world undergoes rapid changes, the way we work is also evolving. We should not underestimate the significance of home office equipment as more people complete tasks remotely. Don't worry, though. We're here to assist you in navigating this process and selecting the most effective and affordable products. Introducing our state-of-the-art docking stations and USB hubs, thoughtfully crafted to enhance your productivity and streamline your digital lifestyle.
Whether you're a technology enthusiast, a remote worker, or a creative professional, our innovative products are designed to simplify your workflow, expand your connectivity options, and unleash the full potential of your devices. Get ready to explore our carefully curated collection, experience how your productivity reaches new heights and level up your tech setup while this Amazon Prime Day!
MOKiN USB C Hub with Dual HDMI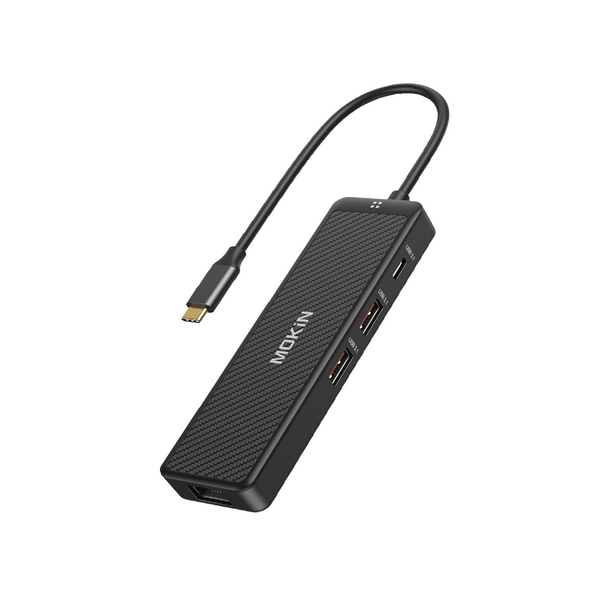 USB C network adapter:Using an efficient RJ45 gigabit port which obtains stable connection speeds up to 1Gbps. Our Ethernet adapter is a plug-and-play device that doesn't require any driver installation making it possible for computers or laptops without an Ethernet port to connect to the network. (To reach 1Gbps, use CAT6 or up Ethernet cables.)
10Gbps SuperSpeed Data: MOKIN USB C to Ethernet adapter equipped USB 3.1&3.2 Gen 2 type c port. Up to 10Gbps, ultra-fast data transfer speeds let you transfer an HD movie in seconds. (Note: All ports do not support charging and video, data transfer only)
Aluminum Housing: MOKIN Ethernet adapter is built with high-quality aluminum shells. The USB 3.1&3.2 Gen 2 USB C ports feature high-grade aluminum shields, making the Ethernet hub more efficient than other plastic products. This ensures a longer lifespan and a more reliable connection for your devices.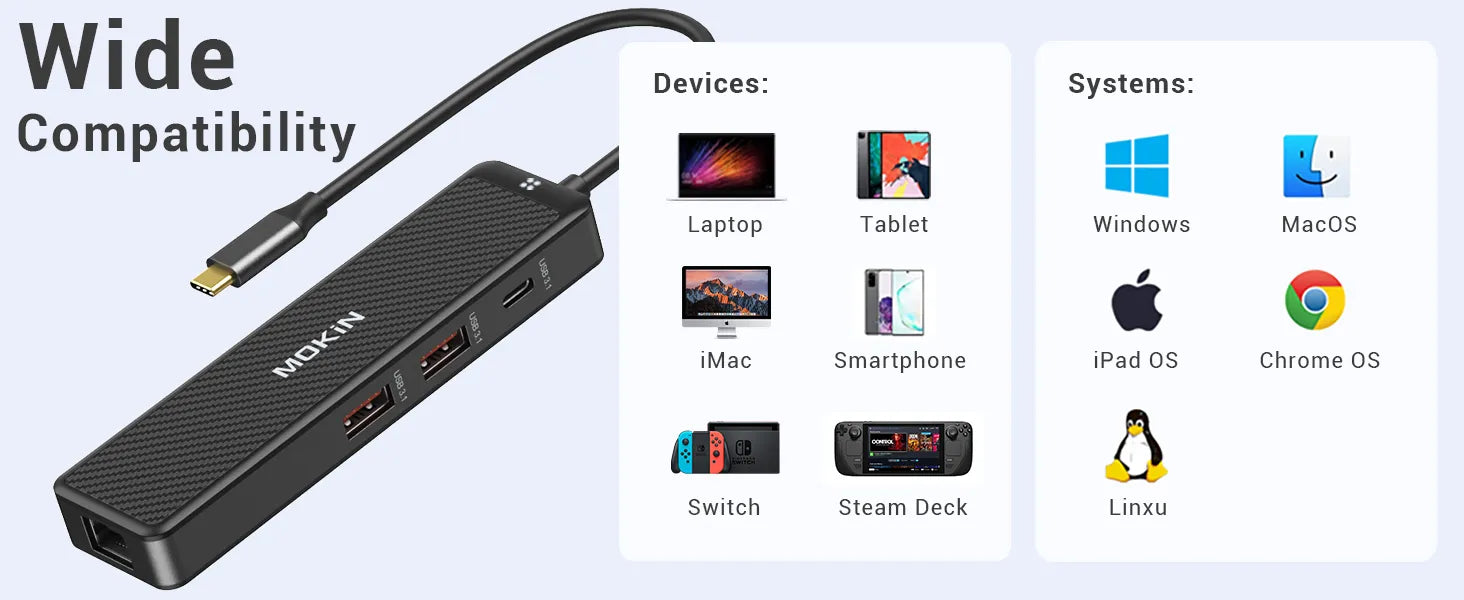 Ultra-slim Design: Fits easily into a pocket or briefcase, perfect for photographers, designers, and filmmakers. Ultra-compact network hub design goes perfectly with the new MacBook and many other devices.
Mokin 5-IN-1 10Gbps USB C to USB C Hub Multiport Adapters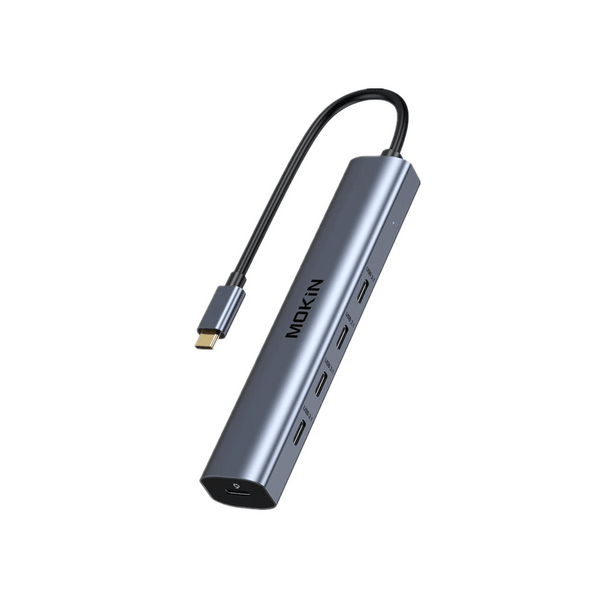 10Gbps Efficient Data Transfer(Note: This USB C hub is designed for data transfer only,not support extend monitor.)
5-Port USB C Hub Adapter easily connects multiple USB C devices to your devices and quickly transfers files.
100W PD Port input and up to 85W (safe) continuous power to charge your laptop. (Note:The Power Adapter is not included, and ensure that your laptop's USB C port supports charging.)
Plug & Play, No additional drivers are needed.
Compact and lightweight, the perfect size will not take up your excessive space.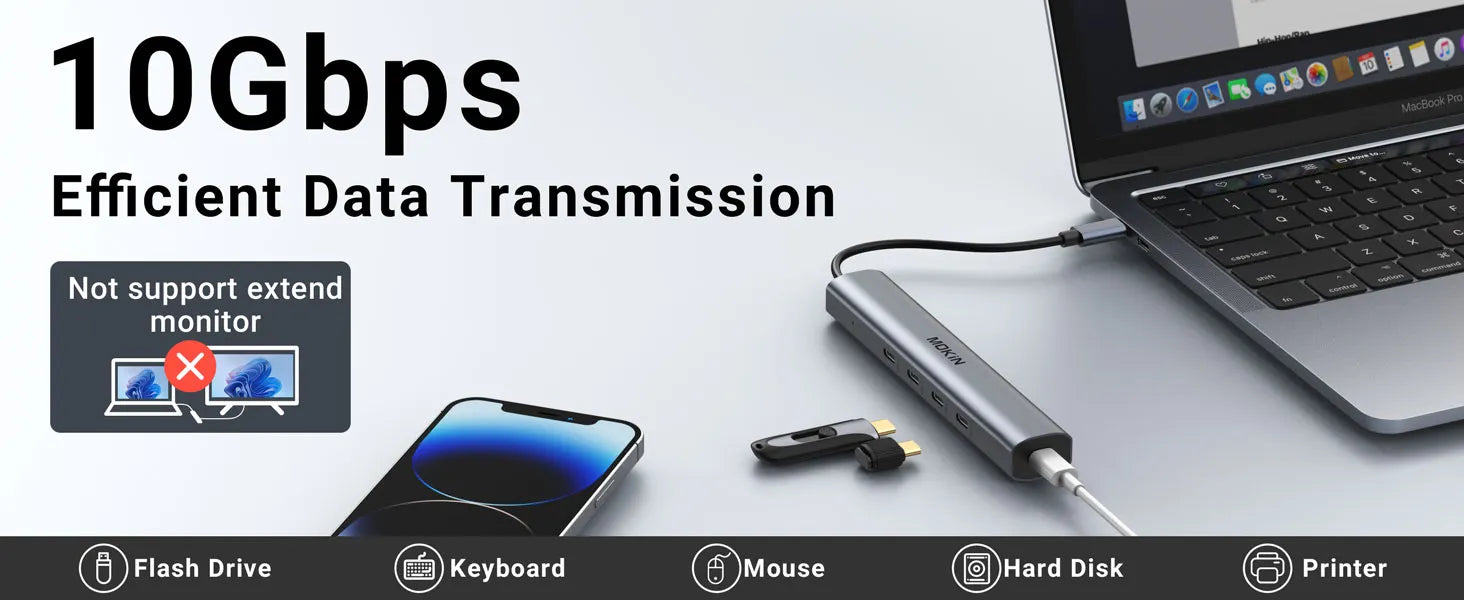 Mokin 9-in-1 USB C Hub for MacBook Pro/Air
Enhance your MacBook experience with the Mokin USB C Adapter. This sleek and compact accessory expands your MacBook's capabilities, transforming it into a versatile workstation. 
With its remarkable features, this adapter is a must-have for MacBook users seeking enhanced connectivity options. The MOKiN USB C Adapter features a USB-C PD (Power Delivery) port, allowing you to charge your MacBook while connecting multiple peripherals simultaneously. Say goodbye to limitations and enjoy the convenience of charging and expanded connectivity at the same time.
Transferring files becomes effortless with the two USB 3.0 ports. Connect external hard drives, flash drives, or other USB devices for rapid data transfer and seamless file sharing.
MOKiN 6-in-1 USB C Hub for MacBook Pro/Air
This hub includes USB ports, an SD card reader, a micro SD card reader, and an HDMI port. You can power your MacBook using the USB-C while using the adapter. 
Additionally, the hub features multiple USB 3.0 ports and an adapter that expands your MacBook's capabilities. It allows you to connect peripherals, charge devices, and transfer files from memory cards. 
The hub is compact, lightweight, and easy to carry, requiring no external displays for plug-and-play use. Furthermore, it is compatible with most USB-C devices, making it an excellent travel companion. 
MOKiN 6-in-1 USB C Hub for MacBook Pro/Air
With two USB 3.0 ports and a convenient MicroSD card slot, this device offers seamless integration with your MacBook Pro, MacBook Air, and other USB-C compatible models. Effortlessly connect a range of peripherals, including hard drives, keyboards, and printers, to the USB 3.0 ports for high-speed data transfer and swift file transfers. Meanwhile, photographers and video creator will appreciate the added convenience of the Micro SD card slot. 
To enhance usability, our adapter supports pass-through charging, allowing you to power up your MacBook while utilizing its features. Stay productive and organized without compromise! 
Key features: Two USB 3.0 ports for versatile peripheral connectivity; MicroSD card slot for easy data transfer for photographers and videographers; High-speed data transfer ensures swift file transfers; Pass-through charging functionality to keep your MacBook powered up; Compatible with MacBook Pro, MacBook Air, and other USB-C models. Upgrade your connectivity options today with our feature-packed adapter! 
Mokin Versatile 10-in-1 USB C Multiport Adapter
This adapter is highly versatile and compatible hub, equipped with USB 3.0, HDMI, SD card reader, and USB-C PD charging ports. 
This multifunctional hub ensures lightning-fast data transfer, supports 4K HDMI, and has an SD card reader, making it an ideal companion for professionals and content creators. 
Additionally, it features a USB-C PD charging port, enabling rapid charging capabilities. 
Upgrade your workspace and embrace the future of work with our cutting-edge home office equipment. Don't miss out on the opportunity to enhance your productivity, streamline your digital lifestyle, and level up your tech setup this Prime Day!