Solved The Problem of Macbook Inadequate Ports
As we all know the undeniable efficiency of Apple's MacBooks is, but the shortcoming is inadequate ports. This is not enough for someone who wants to maximize an Apple laptop's benefits. This is the reason that they want to be able to connect secondary hardware to their laptops.
Why Do You Need a USB-C Hub?
1.one port becomes much ports :If you need to connect different devices, a docking station can help you connect them to your laptop's USB-C port.You can easily connect video outputs like Ethernet ports and SD card slots. Most modern laptops lack ports for these peripherals. A USB-C hub can add them.

2. Convenience: You can take your laptop everywhere you go–to the office, on trips, and everywhere else.A USB-C hub allows you to easily connect your devices whenever you want.

3. More screens: If you use multiple monitors, the Mokin Hub is worth getting. Laptop screens are small, and an external monitor or two can improve your work effectively, letting you see everything at once. Also, when you're gaming, multiple monitors can create an immersive experience, bringing a different experiences.


4.Easy access to new devices: If your laptop is modern, the Mokin 6-in-1 USB-C Hub can give you access to different peripherals: gaming mice, HDMI-connected monitors, and keyboards. If you own a laptop with only a USB-C connector, you'll need an adapter to use the peripherals. Instead of getting one, get a hub that will support many devices.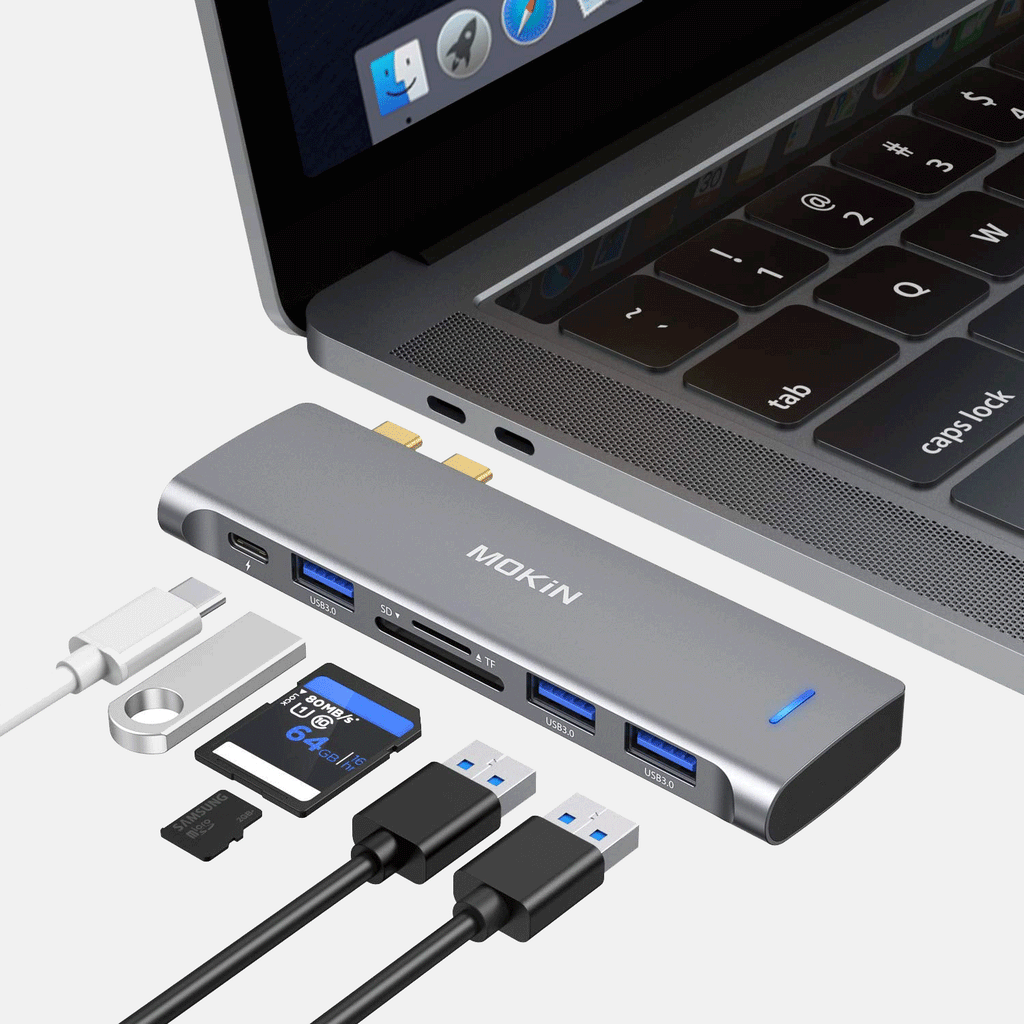 Reaching out to any purchase outlet to buy a USB-C hub for your MacBook Pro/Air, you must consider some factors as follows:
1. The number of ports. For example, if you plan to connect a wired mouse and keyboard plus a display screen, the USB-C hub you'll be looking for must have USB and HDMI ports.
2. Functionality. Suppose you hope to charge your MacBook with the USB-C hub; you must be sure that such a hub supports charging.
3. It's always better to purchase from a brand that has established itself in producing quality accessories for electronic gadgets to avoid wasting your money. Mokin is one such reputable brand.

4. That something is expensive does not always mean it's authentic. Also, in trying to cut costs, you might buy fake products. Be prepared to pay a mid-range reasonable price for this accessory.

5. Learn more Delivery & Return Policy in detail. In case anything goes wrong, you can contact the buyer to return your order with little to no hassle.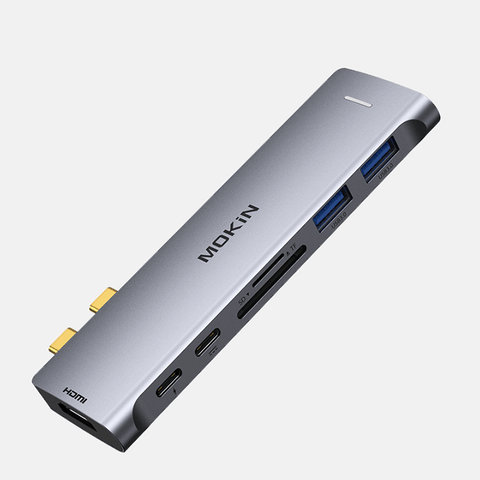 Features
7-in-1 Ports
Compact And Sleek Design
1-Year Warranty
30-day Returns
FBA Shipping(3-7 Business Days)
Mokin is a renowned name in accessory manufacturing.
MacBook Pro Adapter (7 in 1) expand your MacBook Pro ports into 2 USB3.0 + HDMI+2xThunderbolt 3 and SD/TF card reader. Meet all your needs with one hub. Perfect companion for your MacBook Pro 13" and 15" and 16" 2020/2019/2018/ 2016/2017.
Please note:this usb c macbook adapter is not suitable for wearing a protective case.
The popularity of this Mokin USB-C hub is by no means an accident.The design is compact, and it does its work efficiently.
Hopefully, this article is helpful for you.