The Essential Guide to Laptop Docking Stations by Mokin
Introduction to Docking Stations
Have you ever found yourself juggling multiple devices and cables, trying to create the perfect work setup? That's where a docking station comes in, a pivotal tool in streamlining your technological life. But what exactly is a docking station for a laptop, and how does it enhance your computing experience? Let's explore.
Understanding the Purpose of a Docking Station
A docking station acts as a hub for your laptop, allowing you to connect multiple peripherals through a single point. It provides the ease of connecting monitors, keyboards, mice, and other essential devices to your laptop, transforming it into a full-fledged workstation with one simple connection. It's designed to maximize productivity and minimize clutter.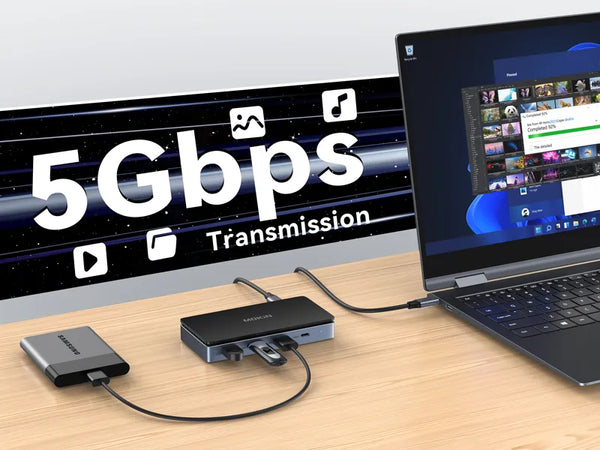 Setting Up Your Mokin Docking Station
Setting up a Mokin Docking Station is straightforward:
Place the docking station on your desk near your laptop.
Connect the docking station to your laptop via the USB-C or USB-A port.
Plug in your peripherals into the docking station's various ports.
Power on the docking station, if necessary, and your laptop should recognize all connected devices.
The Versatile Uses of Docking Stations
Docking stations are used for expanding your laptop's connectivity, charging devices, and creating a clean and efficient workspace. Whether for graphic design, data analysis, or gaming, docking stations like those from Mokin provide the ports and power you need.
About Mokin and Our Range of Solutions
At Mokin, we understand the needs of modern tech users. Our range of Hubs & Adapters and docking solutions cater to various needs, from the casual user to the professional multitasker.
Conclusion
A docking station is more than a simple accessory; it's an investment in productivity. With a Mokin Docking Station, you are not just buying a product; you're enhancing your entire digital interaction. Say goodbye to cable chaos and hello to a seamless, integrated workstation. Visit our Docking Station collection to find the perfect fit for your setup.