Portable Solar Panels - What You Need To Know
Step into a new world of using portable solar panels! Once you walk that step you'll never want to go back. Portable solar panels have gone on the new trend.
Let's dig a little more into portable solar panels.
What's the Solar Panels?
Solar panels(also called "PV panels"), which is a device that converts light into electricity. And solar panels can be used for a wide variety of applications(such as using for homes, businesses, hiking, camping travel etc).
How Do Portable Solar Panels Work?
Solar power works by converting energy from the sun into power. There are two forms of energy generated from the sun for our use – electricity and heat.Unlike roof solar panels, it allows for a portable solar panel in almost any location on the truck's roof. You can park the truck in the shade to keep it cool, and put your panels in the sunshine for the power! Similar to rooftop panels, portable solar panels in RVs generate energy via solar power. It plugs into charging cable or directly into batteries and voila! Your hands are full of strength.
What are solar panels made ?
Silicon is one of the most important materials used in solar panels, making up the semiconductors which actually create electricity from solar energy.
The most common types of solar panels are monocrystalline solar panels, polycrystalline solar panels and thin-film solar panels:
Monocrystalline silicon panels are made from a single crystal. They are the most efficient solar panels, but they're also the most expensive.
Polycrystalline silicon solar cells are made from multiple silicon crystals melded together. They're not quite as high-efficiency as monocrystalline panels, but they're a more budget-friendly rooftop solar option.
Thin-film solar cells are made from amorphous silicon, which makes them the most flexible solar panels but also the least efficient.
Know Your Watts and Watt-Hours
Watts are units of electricity. The energy consumption measure the amount of energy an application consumes. The battery will provide 100 watts to light a two-watt bulb. Watt hours represent energy consumed in an hour. When you're looking for the most efficient way for the light bulb to last 10 hours, you will need a solar power supply or batteries capable of generating 1,000 kW hour or 1kwh. There is little to no correlation between the wattage and the power outputs of the unit.
Best Direction for Solar Panels
Having enough sunshine is crucial. Unless the sun goes out they will no longer have enough energy. Similarly, the direction of the sun's reflection is crucial in picking up the sunlight. Tell me how you should position yourself facing the panel to ensure maximum sunlight. Roofs get free daylight which is ideal for solar panels. Your solar panels will face the south or north on the roof depending on whether you are located at a northern location. The True North or True South point of origin means the point where a daytime sun rises.Portable solar panels convert sunlight into electricity and must be placed where there is maximum sunlight exposure. Aim for a place in direct sunlight from 8 am to 4 pm, at a time of high brightness.
Portable Solar Panel Placement Ideas: Where to Place Portable Solar Panels.
Angle of Inclination
This is the angle the panels face the ground. The optimal angle is influenced by season and location but it would be a useful rule if you angled the panels in the same direction during the summer and lower in winter if the sun is higher in the summer. How can I choose the best tilt angle of my solar panel? Winter will bring your horizon 15° and summer 15°.
What To Look For When Buying Portable Solar Panels
If you are buying a portable solar panel, here are some things that should be taken care of. Learn more about the product information in detail:Product Material;Product Maximum Power;The compatible of product;And The Product function etc.
Recommend Mokin's Solar Panels
MOKiN's 120W Foldable Solar Panels
✅Convert up to 23% of solar energy into free energy for power stations;
✅Made with high-strength tempered glass and waterproof materials
✅Charge multiple devices at the same time;
✅Solar panel kit is compatible with most power stations on the market;
✅Foldable Design,designed with 4 foldable layers;
✅Easy Portability: Weighing only 11.57lbs;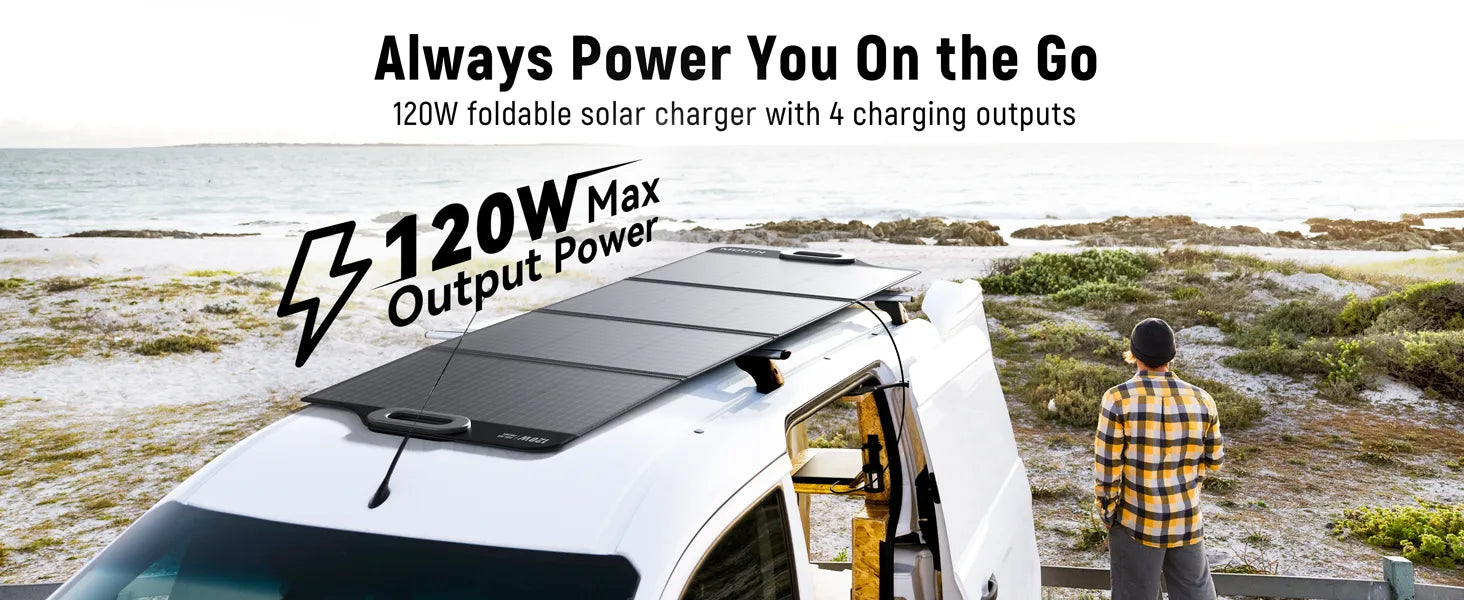 Are Portable Solar Panels Worth It?
If you don't want to spend much on solar power you can definitely use it to save on power costs. Portable solar panels can be used for your RV for the use and can be a step in the path to a complete solar installation. We started using a 120 Watts portable solar panel suitcase for our RV before going big on solar.
The Advantages of solar panel
1.Solar Energy Reduces Your Carbon Footprint:Solar power plants take out a large part of their carbon dioxide emissions by replacing them with cleaner energy.
2.Power can be stored in solar batteries: Storing power allows total freedom from the grid.
3.Renewable Energy Source:The main benefit to using solar cells is solar energy as it is renewable. To a certain extent, the ecological environment is protected.
How long do solar panels last?
Solar panels typically last 25-30 years. After that, a solar panel will continue to generate electricity, although the efficiency will decrease.
Conclusion
Solar panels can be widely used in life, bringing convenience to life and protecting the ecological environment.Get Your Solar Panel now.