What Is a USB-C Hub & How Can It Declutter Your Desk?
With the development of technology, tech engineers design more and more convenient devices for people to use. Research survey shows, more than 70% of Americans own one or several electronic devices(such as laptops, tablets, phones, and computers.) 

The manufacturers started stripping the connection ports from their laptop and tablet models. Nowadays, most new laptops and tablets are left with one, the USB-C port, which gave rise to a new device, the USB-C hub.
Why Was the USB-C Hub Created?
Manufacturers have made laptops and tablets slimmer and more lightweight to meet the demand of a more mobile society, which means removing specific ports and peripherals. But we can find out that we could no longer connect more necessary things to our laptops or tablets.
What Is a USB-C Hub?
As you can imagine, the best USB-C hub will offer all the crucial ports to connect peripherals and other things. Most of them are compact, meaning you can take them anywhere you go. A USB-C hub can have five to ten different ports, making it very adaptable to your port needs.
Of course, keep in mind that the more ports your USB-C hub have, the more things you can do with it. Be sure to investigate your current needs to determine better if you need a five, six, nine, or even ten port USB-C hub. But let's take a more in-depth glimpse at its functions so you can determine how many ports you'll need.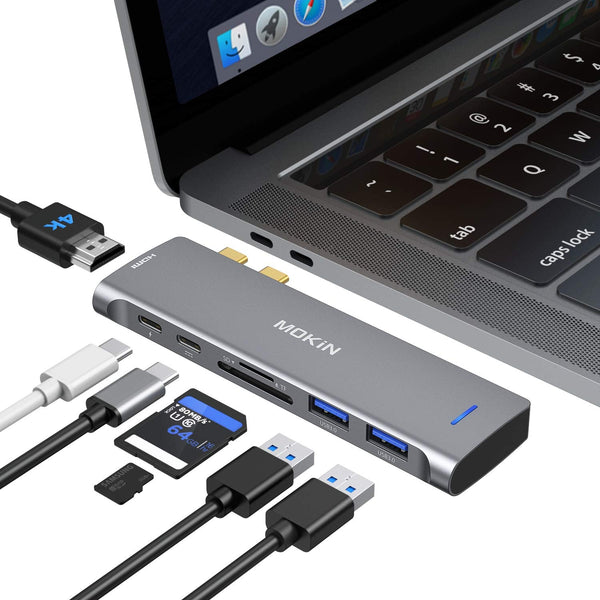 USB-C Male Connector
This is what you'll need to connect to your laptop or tablet to keep the USB-C hub powered. Some newer phones can also utilize the connector to power the USB-C hub.
USB-C Female Port
You can use this port on the USB-C hub to power wireless mice, keyboards, speakers, and even fast charge your Laptop up to 100W. The possibilities are endless, especially since more manufacturers are switching to USB-C connectors.
USB-A Port
Despite the USB 3.0 being released back in 2008, it's still the latest Universal Serial Bus type. It offers 5Gbps in data transfer, which will make HD movies or files transfer in just seconds. But it's not limited to data transfer, as it also works well as a powering port.
USB 3.0 produces up to 900mA, allowing power-hungry devices to now be hub-powered. Also, the 3.0 technology allows greater power performance with less power for idle states or completely eliminating power when not in use. That means you can charge your phone, power bank, or tablet.
You can also use the HDMI port to mirror your phone or tablet onto a monitor. The best USB-C hub will provide full HD 1080P and 4K@60Hz video, so if the video quality is essential for you, be sure to check out the USB-C hub specs.